Motorola published extensive details for the upcoming Moto Razr 2022 and Moto X30 Pro (and not so much for the Moto S30 Pro, which is also on the way). Today, the General Manager of Lenovo's Mobile division in China revealed the price of the Razr – CNY 6,000 (which converts to $888/€870/₹70,500). The company describes this price tag as the "sweet spot" for foldables.



The Motorola Moto Razr 2022 will cost CNY 6,000
This is the price for the 8/128GB base model, the phone will also be available in 8/256GB and 12/512GB configurations. To be clear, the phones aren't officially official yet – the actual reveal will happen at 14:00 tomorrow (China time), the phones will become available for offline and online sale just hours later at 20:00.
A quick summary on the Moto Razr 2022: it is the first foldable with a 144Hz display (all 6.7" of it), it has a larger 2.7" cover display, the hinge design leaves no gap when closed, the phone boasts a Snapdragon 8+ Gen 1 chipset, a 50MP 1/1.55" main sensor with OIS and a 13MP ultra wide camera.
The Moto S30 Pro is still kept mostly under wraps, but the GM posted this teaser image – can you figure out what the numbers mean? The "1.55" most likely refers to a 1/1.55" sensor, same as the Razr. The rest will take some guessing, especially since some digits are blanked out with an "x".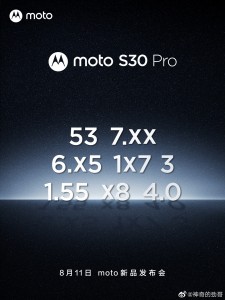 Moto S30 Pro teaser
TENAA already let it slip that the phone will have a 6.55" display, which explains the first number on the second row. "7.xx" is likely the thickness in millimeters. "4.0" could refer to the latest version of Motorola's My UX, but we will find out for sure tomorrow.
As for the Moto X30 Pro – the first phone with a 200MP camera – here is what it looks like in white. The camera is based on the Samsung ISOCELL HP1 sensor (1/1.22"), which looks like this outside of a phone: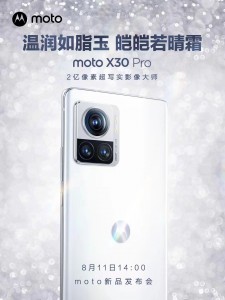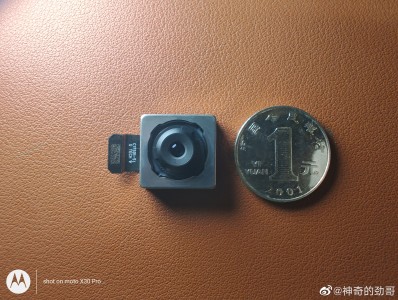 Moto X30 Pro • The impressive 200MP ISOCELL HP1 sensor
The phone will be able to snap full resolution 200MP shots – they will take up a lot of storage, but will let you zoom in to your heart's delight:
Check back tomorrow for the prices of the Moto X30 Pro and S30 Pro.
Source 1 | Source 2 (in Chinese)